Water Heater Installation

Hot Water Heater in Mesquite, TX
Aside from poor performance and high energy costs, many potential dangers can result from improper water heater installation. That's why choosing the right plumber can make all the difference. If you need a new water heater, turn to Clockwise Plumbing LLC to handle the job from start to finish.
My goal is to install your new water heater in a seamless, efficient fashion. I offer:
Great pricing

Flexible appointments

A wide range of models
When you need water heater installation services in Mesquite, TX, Clockwise Plumbing LLC is the company to trust. Call me today to schedule an appointment and discuss your options.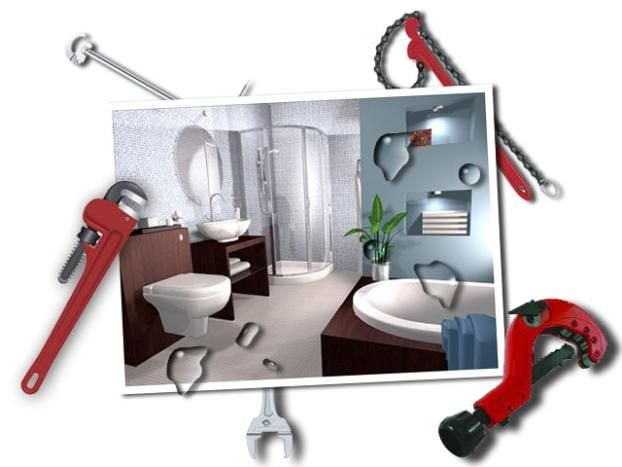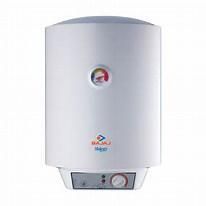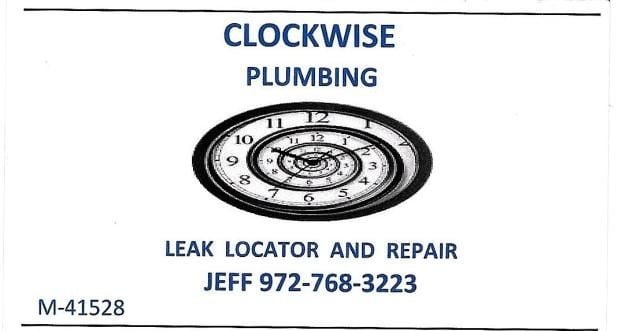 Parker and Alex have amazing customer service and did a great job!

- Camethia Mumphrey. 6/6/2020

We had a leak with our shower head, Jeffery came and fixed the issue rather quickly. We were recommended to Clockwise Plumbing per our builder. Will be happy to use the service again in the future. The staff is professional, text you when the technician is enroute and plumbers are well trained.

after a few problems at the beginning Jeff took care of everything. He went above and beyond to make sure all my plumbing issues were fixed.".

- margaret summey. 3/23/2020

Jeff and Nate were my technicians, they found what was causing the leak, turns out my toilet flange needed to be changed. They were very thorough and did a great job. Special shoutout to Jeff the master plumber and owner. Definitely recommend them and would use again in the future.

- Shannon Wang. 3/10/2020

from the dispatch to the technician Josh, everything was very professional and caring. Would use them again in the future.".

They have come out to my house several times with our water service warranty. The plumbers are so very nice.

- Cori-Ann Gilley. 2/20/2020

"I had a great experience with both technicians!! Very friendly, timely, helpful, professional, knowledgeable and fixed the problem!!"

Clockwise came the day we needed help. The technician and his trainee were both personable and efficient. They also notified me when they were on the way.

- Tom Mullenix. 1/19/2020

Good guys that will be there in a pinch. Helped me out on a plumbing job when I needed a extra hand I'm glad to know Jeff professionally.

- Fixxer Company. 1/18/2020

"The first attempt was not done correctly. Clockwise owner came out and agreed that it was not done to his standards and sent this crew to fix it at no cost to me. To me, that speaks highly of Clocwise Plumbing.".

- Monty Huffington. 1/12/2020

We have used Clockwise Plumbing several times as recommended by our home warranty company. We have always found them to be very professional and efficient as well as very tolerant of our lab which we appreciate. We just had Mike and Justin finish up this am from our latest plumbing issue and were once again extremely pleased with their level of professionalism. They were very diligent about cleaning up after themselves and again we sincerely appreciate that. We have asked our home warranty company to send them whenever at all possible. Highly recommend them for a job well done and in a timely manner.

- Melanie Morrison. 0/24/2020

Recently we had a plumbing emergency, a hot water slab leak, and your company was recommended to us by our warranty company. I am writing to tell you how pleased we are with the repairs, service, and specifically four of your employees. Natalie and Nicolle handled our initial inquiries, scheduling, and follow up scheduling. They not only were professional and courteous but made me feel like I mattered personally to them as a customer not just as a job for them to do. They went out of their way with communication and with working to get us scheduled in as quickly as possible. They did a fantastic job being the front line representatives for Clockwise Plumbing. Thank you, ladies! Mike and Justin were the pros you sent out to diagnose and do the work on our system. From the first meeting the men were professional but personable and very easy to relate to. They were very transparent about what they believed the problem was and what steps they'd have to take to effect the repairs. They worked hard to minimize damage to drywall and Mike was extremely careful to preserve our baseboards, saving me many hours of fiddly trim work to repair. They never just came in and started breaking things up like other plumbers have done. They took time to explain every step of the process and gave me very real talk about what the problem may be and how extensive it might be to repair it if it was a worst case scenario. There was never a time when I felt like they were just working and leaving me in the dark. No one likes having plumbers out and calling a plumbing company. However your team of Natalie, Nicolle, Mike, and Justin made the process much more pleasant than I could have expected. I commend each of them for their work and for how they represent you and your company.

- Matthew Swope. 0/23/2020

Josh & Steve replaced part of the sewer line in our yard. They were on time, friendly, efficient and knowledgeable and polite, got the job done quickly and left no mess.

We had several minor issues including our water heater, leaky toilet and kitchen sink. Josh & Steven were able to fix everything in a timely manner and were extremely professional and knowledgeable. We will definitely use Clockwise Plumbing again.

- Lacy Zihlman. 11/19/2019

We had an emergency situation with water backed up in our bathroom, coming out of the bathtub, the shower and the toilet. In less than 3 hours we had everything fixed! The service professional was courteous, friendly, and definitely knew his stuff. And the price was very reasonable considering the fact that it was late on a Friday night. We will definitely be using Clockwise Plumbing again, any time we need the services of a plumber.

- Laura Nichols. 10/29/2019

I had a clogged drain pipe in the laundry room and Jeff initially cleared the drain I seen it with my own eyes. He also let me know about the leak under my sink and needed to call that in. So I was satisfied but after he left and ran my washer and water came back up through the drain. I called Clockwise immediately back to let them know it's still clogged and call my warranty company to do a recall and the service call for the leak under the sink. They were able to work me in the day after. Let me tell you Jeff was AMAZING!! He did not give up! He tried EVERYTHING to unclog the drain. It was not easy. Because we assumed it was cleared and it wasn't and he was confused as I was too but he finally got it unclogged!! I was so beyond happy. Oh and under the sink was a hot mess! all kinda rigged stuff that I didn't even know about but Jeff fixed all up..went that extra mile to make sure all was good. Great guy and awesome company!! I will definitely use his services again!

Clock wise was above and beyond in addressing fixing my plumbing issues in my kitchen.. which was a major headache in which the previous guy from craigslist could not address... definitely should have came to them first .. they're techs Dustin and Josh.. fixed kitchen properly... double checked and demonstrated two thumbs up

Clockwise Plumbing came out for a leak I had from my bathroom upstairs, leaking in the wall downstairs. My experience with them was really good from the start. Natalie called the day I called my warranty company to set up an appointment for the following morning. Mike and Justin came out and found the problem. At that point they had to notify the warranty company of the work needing done and wait for their approval. Once approved, Natalie called and set a time for them to come out. Mike did a great job explaining what needed done, both at their initial visit and at the time the work was being done. They were professional and did a great job communicating. I feel like they worked hard to get things done right. I would recommend them to anyone with plumbing needs. I would also recommend requesting them if you are having your home warranty company sending you a plumber. Thanks for your hard work and for getting things done fast for us! Wade Gatewood

- Wade Gatewood. 8/27/2019

Mike & Justin were great! Very professional, courteous & respectful. Displayed integrity and genuine concern to address needs. Would highly recommend them both!

Josh and Steven were amazing! They even helped me change my flat tire. I really appreciate y'all!!!

- Alicia Poynter. 8/20/2019

Dakota and parker got the job done.

The best plumbers in DFW hands down. Palker and Dylan came to my house and offer the best service. They we're knowledgeable, clean, fast, honest, and helpful. The will be my first option in plumbing services.

- Jose Manuel Torres. 7/18/2019

thanks mike and dakota best plumbers in all of metroplex

- joe hernandez. 7/5/2019

Jeff and Natalie are awesome!! Super service every single time. The ONLY plumber I trust 1000%% Jeff and his crew very professional, quick, reliable, competent and most importantly honest! I have used for past 2 years for various jobs including locating broken water lines that other plumbers sent by warranty company could not find.

Mike L. did an awesome job getting our main water line fixed. Mike is very professional. Thanks Mike L.

- Michael Razavizadeh. 7/3/2019

Andrew and Dustin fixed my toilet quickly and I am 100%% happy with their service!! Great job! Thanks.

Andrew and Dustyn were very professional

- Yelena Brousenko. 6/20/2019

Manuel and Parker got the job done! They got here fast and fixed our plumbing issue.

Andrew and Dylan did a great job

- Rudra Chimoriya. 6/5/2019

If you have a plumbing issue call clockwise plumbing. There fast and reliable

- Michael Moulton. 5/25/2019

Andrew was amazing, in and out in a few minutes and got the job done! Highly recommended!

Andrew was a very an good corporative worker, and worked really fast. Made everything go as smooth as could be!

- Heaven Davidson. 5/24/2019

Andrew Pinson installed a hot water tank for us. He answered all our questions and finished in a very timely manner. We haven't had any problems. Larry and Joyce Cox

Andrew was very professional! They did a wonderful job...He answered every single question I had for him...he told me step by step everything he was doing..I appreciate that very much!

- Sariya Blamer. 5/20/2019

Clockwise plumbing repaired a sink that was leaking in my kitchen. Andrew and Dylan did the repairs. They were very courteous and professional. Also they were able to complete the job in a very timely manner. I would recommend this company to anyone that has any plumbing issues with their home

Great service. Andrew and Dylan kept me informed, were clear about pricing, and very informative about what needed/was done. Will certainly use them in the future.

Andrew and Dylan were great. They did the work expeditiously and took care of my blocked drain issue.

I am super pleased with the service my family received from Dylan and Andrew. I also appreciated the work Mike and Manuel did to install our new water heater. They all were honest, efficient and sympathetic to us. They were thorough in explaining everything to us. I also appreciated Taylor getting us the immediate help we needed for our leaking heater. I would totally recommend them to my friends and family and plan to!!!

- Tasha Turley. 5/14/2019

They showed up on time & found the problem, fixed the problem within 2 hours and now everything is working well now. Thanks!

- Quentin Jackson. 5/8/2019

Clockwise plumbing is very reliable and does a great job

- jeffery mcdaniel. 5/7/2019

Had a hot water heater went out called Clockwise as a referral from a friend they fit me in the next day was estimating 3:00 they arrived 45 min early. Mike showed up at the front door nice and polite, surveyed the the issue confirmed pricing and went to work, finished in about an hour and a half. He went over everything with me the area was left clean. I highly recommend

- xoxoxo xoxoxo. 5/5/2019

They did a great job, and very quickly! Clockwise Plumbing is my go to plumbing company.

Jeff now has a lifelong client. We had previously received a quote from a different plumbing company that we believed was excessive. I reached out to Clockwise and Jeff came out, spent the time to walk me through the problem and only charging a fraction of the other quote. I admired and greatly appreciated the integrity , honesty and respect that Jeff showed me and will always go to him first as well as refer him to family and friends.

Justin & Dakota did an outstanding job repairing my sink water leak!!

- william ozbirn. 1/27/2019

Josh stopped by to clear our clogged tub. Had us up and running in less than 10 minutes.

Josh was great to work with. He called to let me know he was on his way. He let me know what the issues were with my garbage disposal and had the parts to replace and fix. He was very professional and knowledgeable. I would recommend him and Clockwise Plumming to anyone.

Josh was very helpful with repairing our water heater. He quickly determined the problem and had the parts to fix it. He and his coworker were very nice and informative. I would highly recommend to anyone with water heater issues.

- Steven Barnett. 0/19/2019

Josh Crow had done great customer service.

Josh came and fix my toliet. He was very fast and took time to explain the issue. He is very friendly and take pride in his work. I would recommend and use them in the future if I need them again.

Not only was Clockwise Plumbing able to come out on very short notice,they worked very hard to make sure that my plumbing issues were resolved. Upon completion, they checked everything before leaving,cleaned up the area & took time to explain the issue.I couldn't be happier with their services & I highly recommend this company. Thank you Mike & Dillon!

- Sheronda Dear. 0/18/2019

Great service. Josh and Justin were able to repair my water heater after two other plumbers came and could not fix it. He got the work done in a timely manner and took the time to explain the issue to me. Will definitely be using Clockwise in the future and will be referring to my friends!

- Adriane Whitman. 0/17/2019

Last Thursday, I experienced two plumbing problems, one with a disposer pipe, the other with the gas hot water heater. Since I have American Home Shield, I had to submit two tickets; the disposer was assigned to Clockwise, the water heater to different company, SDL. When I contacted Clockwise to schedule, they were able to work me in immediately, so Justin and Josh showed up on Friday morning. The other company (SDL) told me their techs didn't work on the weekends and it would be Tuesday before they could schedule something for the water heater. I mentioned the problem to the Clockwise techs, and they said to get AHS to transfer the ticket to them, and they could fix the water heater while they were here. I was able to do so, and they took care of both problems within the hour. Needless to say, Clockwise provided a great customer experience- and SDL leaves a bad taste. Kudos to Justin and Josh!

So far so great! I think I finally found a very good plumbing company after some not so good and some bad diagnosis from other plumbing companies. Mike, one of the Master Plumbers, definitely knows his field, and they go the extra mile to make sure they're diagnosing things properly. I definitely am planning on using them again for a few other items, and if the service remains the same, I think I found a plumbing company I will go to for all my plumbing needs into the future.

Today was the second time that we used Clockwise Plumbing. They are excellent and for them to come out on a Sunday two days before Christmas was worth it and GREATLY appreciated! Thank you Jeff & Natalie!

Merry Christmas to all and Happy New Year From Clockwise Plumbing

- Nataline Mcdaniel. 11/22/2018

AHS warranty company assigned Clockwise Plumbing to take care of my issues. Josh and Shawn were vey professional, knowledgeable, and awesome. I was contacted by Clockwise on a Thursday to schedule my appt for Saturday between 9 am and Noon. I was contacted on the day of the appt at 8:50 am and was told they were on their way. They arrived at 9:15 am and completed the job in less than 30 minutes. I would highly recommend this company if you are looking for a honest and professional plumbing company.

- Mohammad Fahad Aveek. 11/3/2018

Very professional, excellent work, reasonable prices. Great team to work with.

- Emad Qaddoura. 6/30/2018

I booked clockwise plumbing through American Home Shield warranty, which typically doesn't have the best vendors. They gave me an actual appointment that was an hour window. They showed up in a timely manner. He asked me if there were other plumbing concerns that he could fix. He was very professional and fixed my toilet correctly. He even removed the extra caulk (which there was a ton) to make sure that everything was clean. Highly recommend!

- Rachel Rogers. 5/29/2018

Last night the sink in our front bathroom backed up, next the kitchen sink backed up. Although it was already dark and getting late, my husband immediately called Clockwise plumbing and they came the very next morning. Mike, the plumber was friendly, very prepared and knowledgeable about our problem. He and his apprentice, Andrew, cleaned all our drains and installed a disposal we had purchased as we knew ours needed replacing. I talked to Mike about replacing our tub, putting in a whirlpool tub or a tub to shower conversion which they also do. We will be calling them soon to do our replacement very soon. Excellent company, excellent employees and reasonable pricing. I highly recommend them for anyone's plumbing problems or a remodel.

- Angelite S.Bryant. 4/1/2018

Very helpful and great job

- Randall Mcdaniel. 3/8/2018

The plumbers who I forget their names showed up in the time window givin and assessed the problem and repaired it in amazing time, and on top of that Jessica who aswered the phone was amazing and helped me with everything I needed and set me up with with the amazing guys that did the work. Thanks Clockwise!

Great customer service. Highly recommend! Good pricing and good people!!!

- Ashley LaFleur. 3/4/2018

The staff were professional, hard working and great communicators of what issues i had.

- geraud crowder. 1/27/2018

They did an excellent job on the big problem I had in my house. They were in time-there workers were informative and polite-they cleaned up afterwards There's nothing but good about this company. I would highly recommend this company for. any plumbing needs

Andrew and Michael with Clockwise Plumbing showed up in the time window given and assessed the issue, went out for parts and had the repair done in a very timely fashion. They were both kind and very professional and even let me pick their brain about another issue I am experiencing and offered solid advice. I'll definitely use their services again and would recommend to others.

- Brandy Fernandes. 1/22/2018

Reliable, fair, hard working, good communication. Fixed our issues!

- April Schneider. 11/29/2017

Great service. Very professional, friendly and came by on very short notice. Quoted us a fair price. Will use the company again in the future and recommend to friends!

Great service,great prices,great quality!

- Jason Vickers. 7/18/2016